Who We Are
Since 1917, Lutheran Social Services of the National Capital Area (LSSNCA) has accompanied those in need throughout Maryland, Virginia, and the Washington D.C. metro area to foster resiliency, self-sufficiency, and access to opportunities by creating, connecting with, and engaging welcoming communities. 
Motivated daily by our belief in the inherent dignity of all, LSSNCA's innovative participant-informed programs serve refugees, forced migrants, immigrants, children and youth, and underserved communities by filling in the gaps. Piloting initiatives like the area's first camp for kids impacted by the HIV/AIDS crisis, originating local pro se asylum workshops for Afghan Allies, launching a Resource Center to serve as a community hub for all recently arrived program participants, and backing an array of ongoing mental health support services, alongside community partners, LSSNCA strives to create an inclusive community of well-being where people thrive.
LSSNCA Program Participant from Afghanistan

"When you give me a sweater and I ask you for a coat; when you give me a coat and I ask for food; when you give me food and I ask for a laptop, it's not because I don't understand the value of this sweater, it's because you are family and I know we can ask you and you will help us."
Our Impact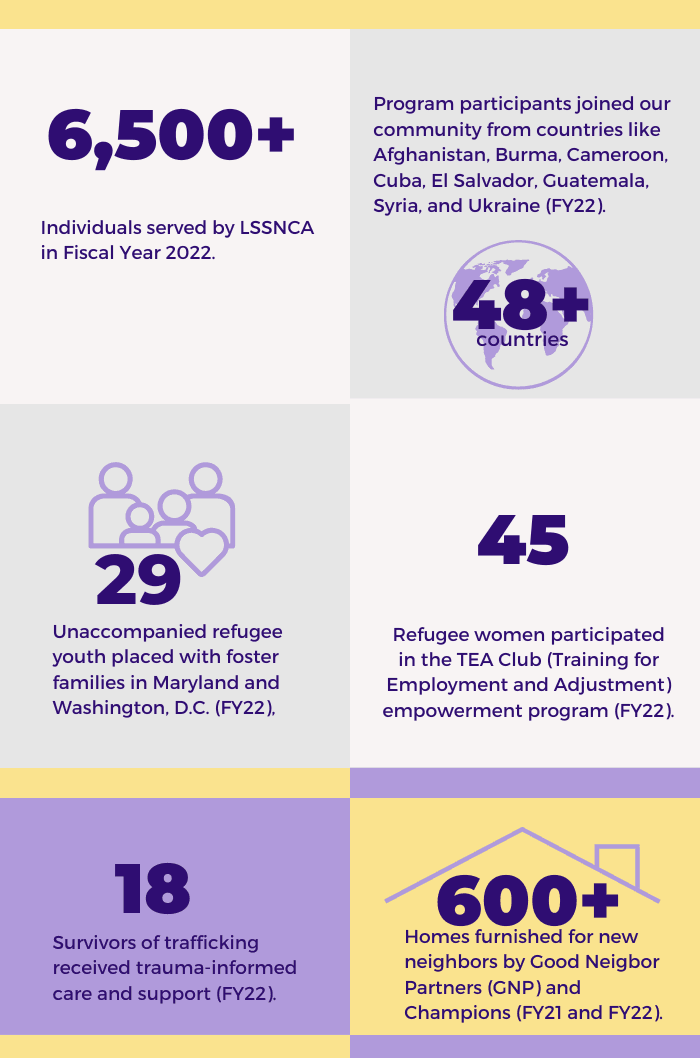 From the Newsroom
In the wake of the end of Title 42, new iterations of restrictive immigration policies and proposals have been introduced by Congress and the Administration. Lutheran Social Services of the National Capital Area (LSSNCA) urges Members of Congress to oppose S.1473, introduced by Senators Kyrsten Sinema (I-AZ) and Thom Tillis (R-NC), as well as the House companion bill H.R. 3234. This bill in effect would continue Title 42 and harm families and children seeking safety in the U.S. as well as imposing detention and expulsion without a fair process or adequate protections.
LSSNCA along with 53 other national, state, and local organizations signed this letter to the Office of Refugee Resettlement urging the government to strengthen the U.S. capacity to welcome and serve Afghan arrivals who were paroled into the United States since July 31, 2021. This includes a guarantee of continuity of service provisions and extended eligibility for legal services.
We lament the loss of eight people who were tragically killed on May 7 in Brownsville, Texas. We grieve along with their families, friends, and their communities, and mourn their futures that were cut short. Our thoughts are also with the 10 who were injured and hospitalized. We continue supporting and welcoming those courageous enough to take these journeys and are grateful for our team and community for creating welcome for those seeking a better life.