Who We Are
Since 1917, Lutheran Social Services of the National Capital Area (LSSNCA), a human services and immigration relief and refugee welcome agency, has accompanied those in need throughout Maryland, Virginia, and the Washington D.C. metro area to foster resiliency, self-sufficiency, and access to opportunities by creating, connecting with, and engaging welcoming communities. 
Motivated daily by our belief in the inherent dignity of all, LSSNCA's innovative participant-informed programs serve refugees, forced migrants, immigrants, children and youth, and underserved communities by filling in the gaps. Piloting initiatives like the area's first camp for kids impacted by the HIV/AIDS crisis, originating local pro se asylum workshops for Afghan Allies, launching a Resource Center to serve as a community hub for all recently arrived program participants, and backing an array of ongoing mental health support services, alongside community partners, LSSNCA strives to create an inclusive community of well-being where people thrive.
LSSNCA Program Participant from Afghanistan

"When you give me a sweater and I ask you for a coat; when you give me a coat and I ask for food; when you give me food and I ask for a laptop, it's not because I don't understand the value of this sweater, it's because you are family and I know we can ask you and you will help us."
Our Impact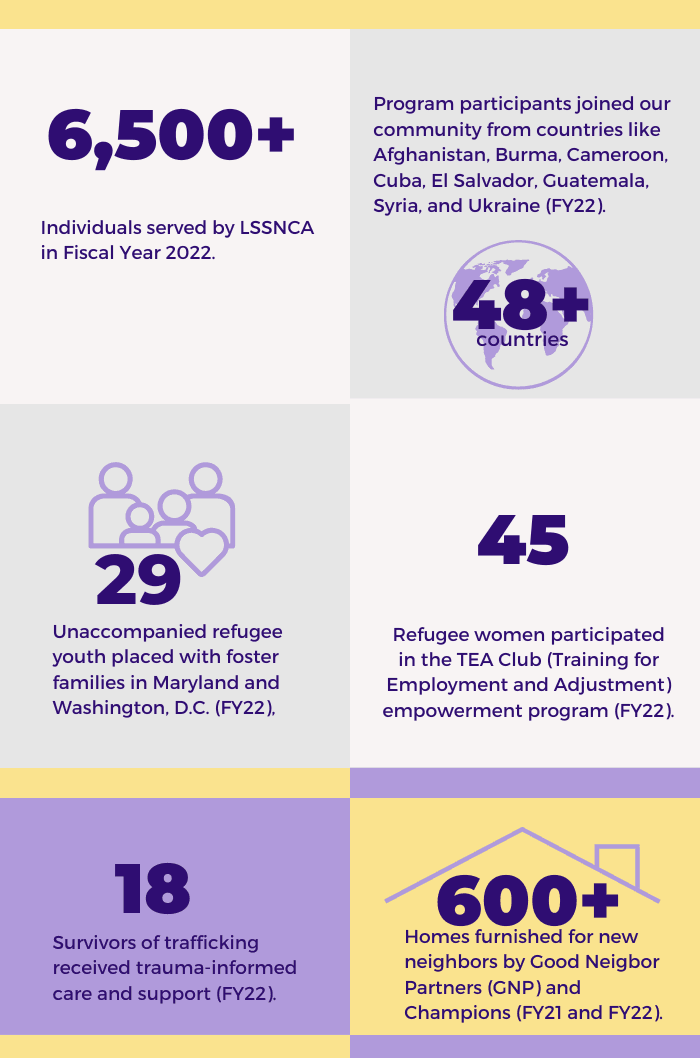 From the Newsroom
Yesterday and today's immigration policy and initiative announcements from the Biden Administration reveal just how broken our immigration system is -- with policies that both represent our nation's legacy and moral obligation to welcome those fleeing persecution and those that raise concerns about due process and treating people with dignity. Lutheran Social Services of the National Capital Area (LSSNCA) affirms the inherent dignity of all who migrate. We know people do not leave their homes unless the fear of staying outweighs the fear of uncertainty and danger of the journey.
The Biden Administration is rumored to be considering leaving vulnerable individuals in the care of state governments that have not only expressed their disdain toward those in need but have acted on it. We call on the Administration, and Congressional partners, to embrace the sentiments this country, a nation of immigrants, was founded on: the fundamental rights to liberty and access to fair due process and take seriously the protection of those seeking safety at our door.