Donating is always the best way to support Lutheran Social Services of the National Capital Area (LSSNCA).
Our "How to Help" tab will guide you to top needs, and below are three of our current greatest needs. 
---
Welcome a Refugee Family
Everyday we welcome new neighbors at LSSNCA! Join us in welcoming them through our long-standing Good Neighbor Partners and Champions program. Provide a one-time, three to six-month or one-year co-sponsorship commitment to fit your needs. Support can range from a one-time home set-up with furniture and essentials to ongoing mentoring, and up to a year of rent, internet payments, and other essential support to make the DMV feel like home. 
---
Foster Families for Unaccompanied Youth
Our unaccompanied refugee minor (URM) foster care program is seeking foster parents who live in Maryland towns/cities bordering the District of Columbia. The transitional foster care program is also looking for Spanish-speaking foster parents and communities in and around Fairfax, VA. 
Our transitional foster care program also needs welcome kits for kids! Shop our Amazon Wishlsit from the TFC link below. 
---
Essential Needs
To meet the needs of arriving families, we ONLY accept items on our Amazon Wish Lists and/or the following delivered items:
Laptops (NEW only)
Smartphones (new or refurbished) and SIM Cards (Mint Mobile preferred)
Gift Cards (Visa, Target, Walmart, Giant, Uber, Safeway, and Lyft)
Basic Needs (NEW only):
Infant Car Seats
Diapers (Size 4, 5, and 6)
Pull-ups (All sizes)
Laundry Detergent
Multi-purpose Cleaner
Bedsheets (queen and twin size)
First Aid Kits
Nail Clippers
Toilet Paper
All items can be dropped off or shipped to our Resource Center. For open hours, click here.
5710A General Washington Drive
Alexandria, VA 22312
---
Toy Drive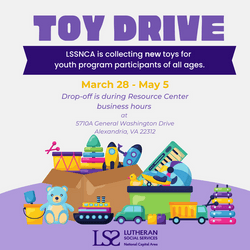 We're hosting our 2023 drive between now and May 5! Toys will be distributed to youth program participants to make them feel more at home and as birthday and holiday gifts!
Donations will only be accepted at our Resource Center during its business hours. 
For more information, email resourcecenter@lssnca.org.