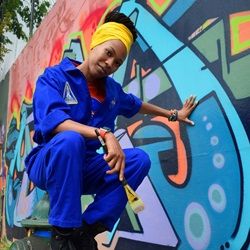 Sabrina, a.k.a. Nefertiti-Pokahontas, is a visual artist by nature and Aerospace Engineer by profession. She spends most of her time thinking about outer space, whether it is using math and science to put things into space or imagining being there.  She is fascinated by our universe, Earth, humans, and how energy is transferred between all of us.  Seeking to understand the interconnections between the three is a mission of hers.  The more she learns, the more she shares in the best way she knows how...through art.
In her newest body of work, "Girl In Space",  she highlights women pursuing their dreams and fulfilling their destiny as they explore and make contributions to our understanding of the Universe.  This collection of paintings is meant to inspire the next generation of girls to be confident in their abilities and know they are more than capable of breaking down barriers they will encounter as they pursue their dreams.  These paintings are symbols of HOPE and INSPIRATION.
The Name: "Nefertiti-Pokahontas" is the amalgamation of two very distinct cultures that personifies my totality: I am a Native - African American. The name "Nefertiti" means "the beautiful one has arrived" in Egyptian. "Pocahontas" means "she is playful" in Algonquin. That said, Nefertiti-Pokahontas describes not only my culture, but my personality and attributes as well.  As an artist, my work is a product of many moments of playing...with colors, ideas, words, shapes, etc.  And I believe it is playfulness and the ability to enjoy every moment of life regardless of the circumstances that is the most beautiful and authentic thing about me.  This is also what I share in my art.
Design Submission