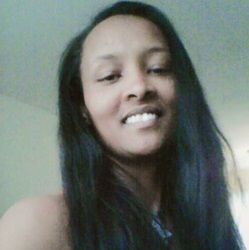 Fetunwork (Fetun) Amedie: Refugee Artisan
Fetun was born and raised in northern Ethiopia. Her drive for art inspired her to pursue fine arts and she graduated from the Alle School of Fine Art and Design in 2003. She has exhibited and sold her work in Ethiopia since 1998, and has received multiple awards, gallery representation, and placement in the National Museum of Art in Bahirdir, Ethiopia. She was resettled by LSS/NCA after fleeing Ethiopia and has since exhibited her work across the Metro DC region.
---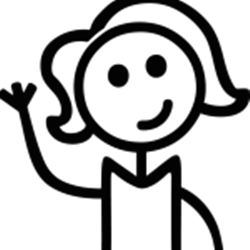 Vanessa Brown: LSS/NCA Volunteer
Vanessa Brown's career has focused on restorative justice, gender equality, and non-violent conflict transformation. She has over a dozen years of experience as both a donor and project manager for political transition and economic empowerment programs conducted throughout Latin America, North Africa and the Middle East. For several years, Vanessa worked as a U.S. government Refugee Officer abroad, where she adjudicated refugee resettlement cases for political activists, unaccompanied minors, and families fleeing protracted violence throughout Asia, East Africa and the Middle East. Vanessa is a published author on violence prevention for vulnerable youth and on gender agency in security building, including a book chapter in "Waging War and Peace…Women's Roles in Conflict and Post-Conflict Reconstruction" (Continuum: 2011). She holds a B.A. in International Affairs and an M.S. in Conflict Analysis and Resolution.    Prior to joining the federal government, Vanessa worked for nonprofit organizations in Washington and international NGOs in the Balkans and North Africa. She is an experienced trainer and has led conflict management courses for university students, juvenile offenders and incarcerated adults. 
---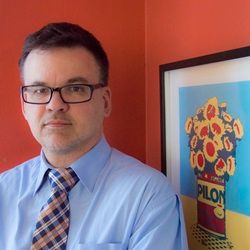 Ric Garcia: Local Artist
Ric Garcia is a painter and digital printmaker who exhibits in the DC metro area. His work builds on the traditions of pop art and is infused with references to various cultures in America. Garcia's perennial favorite is Latino culture and it's consumer branded products. Garcia thinks of his depictions of these everyday products as still lives, commenting that "ultimately the work is less about representing the product and more about eliciting emotional reactions, introspective questions and celebrating Latino culture." The cans and packages in his work are based on real products, but the slogans and illustrations on the labels are re-imagined in ways that express and comment on his bi-cultural experiences as a Cuban-American. His art and work process has been featured in online articles at Artists & Makers Studios and East City Arts. Garcia's art is in many private and public collections. Most recently his work has been added to the DC Commission on the Arts and Humanities Art Bank collection and the Arts and Cultural Heritage Division of The Maryland-National Capital Park and Planning Commission, Prince George's County, Maryland collection. He is currently on staff with the Smithsonian as a visual specialist. See Ric's work at : http://ricgarciastudio.com
---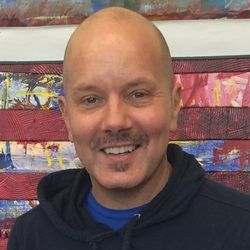 Tim Kime: "Art of Possibilities" Workshop Coach
A long-time Washington, DC resident, a life-long artist as well as an award-winning and accomplished community leader, Tim Kime is passionate about transforming items, people, organizations and communities.  He is Founder & Chief Creative Force of Transformation Junkies and is President of Kime Leadership Associates (www.Kimeleadership.com), both launched in October 2014.
Transformation Junkies creates one-of-a-kind, upcycled and repurposed furniture and household items. Following a competition, one of his unique benches was commissioned as part of Dance Place's 8th Street Arts Park which opened in September 2016.  His pieces were featured in the Art of Transformation Exhibit held at PEPCO's Edison Place Gallery in August 2016 in partnership with Goodwill of Greater Washington.  His items were recently on exhibit during Artomatic 2017 in Crystal City, Virginia.
Kime Leadership Associates offers executive coaching, meeting facilitation, motivational speaking, and team-building for groups of all sizes.  Among his clients are Children's National Medical Center, the Leadership Center for Excellence and Covenant House Washington.
Tim combined his two passions---upcycling items and bringing out potential in people---through his "Art of Possibilities" Workshops currently being held in partnership with Goodwill of Greater Washington and VisArts.  During the engaging sessions, participants transform second-hand items into works of art while creating action steps for their next big success.
Tim's passion for the arts includes hands-on creativity as well as support with his extensive leadership experience.  His studies include art classes in Paris, Santa Fe, Provincetown and Alexandria's Torpedo Factory.  His is a Board Member and the Strategic Planning Committee Chair of Life Pieces to Masterpieces, which uses the arts to capture the attention and enhance the education of African American boys in Wards 7 and 8. 
Locally, Tim's creativity was on full public display when his home was featured twice on the annual Brookland Home and Garden Tour.  Attendees saw his home with its works of art---many created by him and other family members---as well as repurposed dressers used as bathroom vanities and wooden pallets used as a garden pagoda. 
A certified Expert Professional Life Coach, he is the former President & CEO of Leadership Greater Washington, which connects and inspires collaboration among top, senior level leaders from DC-area business, government and nonprofits.  He has been a catalyst for creating impactful and life-changing relationships through his leadership development and coalition building efforts.
Tim was recently served as Board of Trustees President of his church, Unity of Washington, DC.  He is a graduate of Bowling Green State University with a Bachelor of Arts in Communications. 
---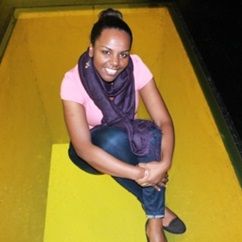 Aerlande Wontamo: LSS/NCA Staff
Aerlande joined LSS/NCA in the summer of 2009 as a refugee case manager, working closely with our families. Aerlande now serves as the Resettlement Manager and oversees stellar refugee staff. The resilience of the refugee population inspires & encourages Aerlande, while her amazing team keeps her grounded. Aerlande is our staff representative on the design Selection Committee.