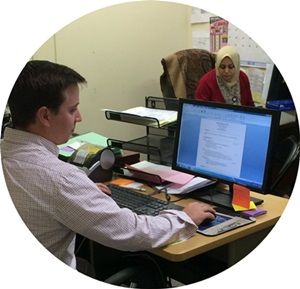 On Monday, June 30th 2014, the LSS/NCA Baltimore office welcomed Mr. Charles Nolan Wietcher from MJ Morgan Group as an employment services volunteer. MJ Morgan Group has been a very strong employment partner since 2011 and has decided to send a volunteer twice a month to our Baltimore location to be more involved with LSS/NCA efforts. These bi-monthly volunteers will be contacting clients about available jobs throughout our community, speaking to other potential employers about job retention and the benefits of hiring a refugee, and conducting mock interviews to help refugees prepare for the American workforce.
The vice president of MJ Morgan Group, Mr. Bryan Nizer said, "MJ Morgan Group is extremely proud and honored to be a partner with LSS. Since 2011, we have hired hundreds, if not thousands of LSS clients. More importantly, we have had the privilege to watch these dedicated and passionate people rebuild their lives in the United States. Knowing that we play an integral part in helping them and knowing that they are now out of harm's way is truly indescribable. Thank you LSS for choosing us to be a valued partner!"
To learn more about becoming a refugee employer, please explore our webpage or fill out our employer interest form for a one on one conversation with one of our employment advocates.