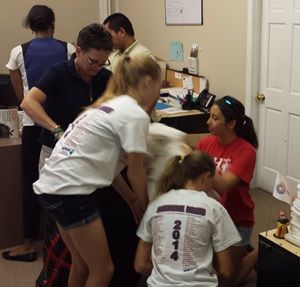 At LSS we thrive on the kindness and time donated by our volunteers. Today we had the wonderful opportunity to meet and host youth from the Evangelical Lutheran Church of America who traveled from New Jersey to lend a hand in our Falls Church office.
The lively volunteers organized in-kind donations, folded towels, cleaned our storage units, and learned about the challenges refugees must overcome after fleeing their homes. Our staff members explained to the youth that a refugee family receives a one-time stipend of roughly $1,000 so that they may pay for rent, transportation, food, clothing, and other necessities. Because $1000 does not go very far in our community, having an organized supply of every day needs: towels, plates, utensils, and shower toiletries, is essential to helping our neighbors in need.
We are always grateful to our volunteers but are especially delighted when our younger generation is eager to help. If you are interested in being a part of the action, please see our wish list or fill out our volunteer interest form.