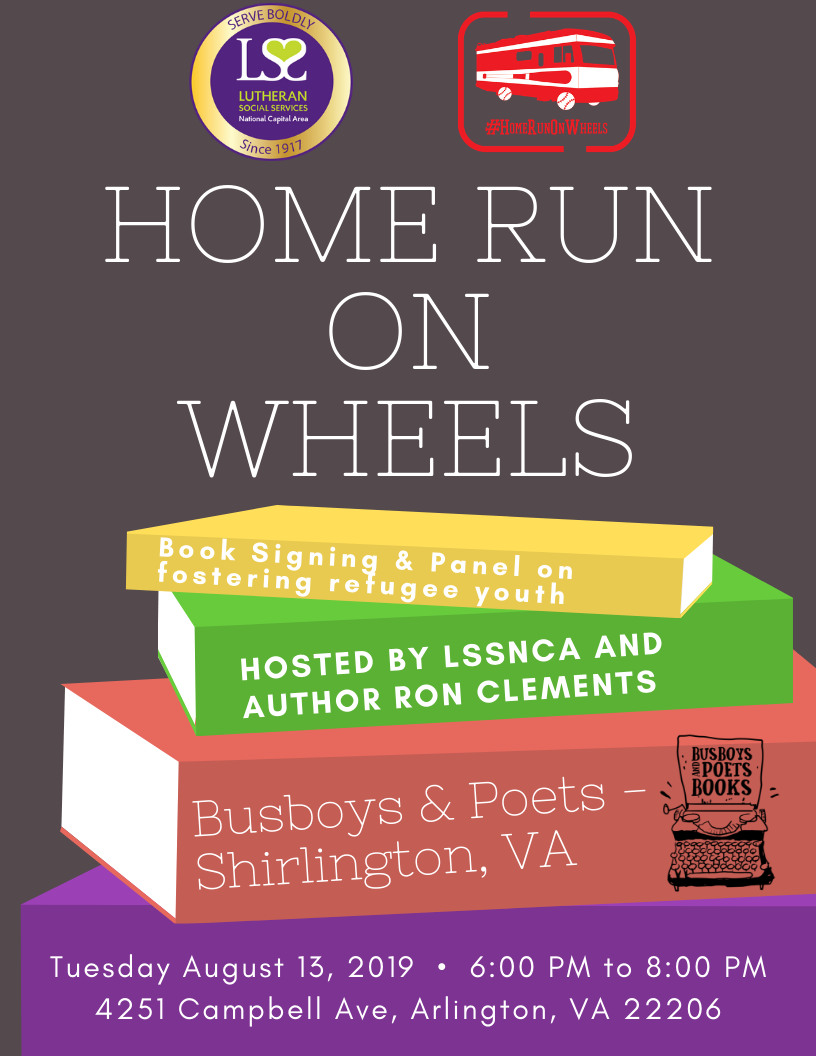 Home Run on Wheels - Book signing and URM foster care panel
Tuesday, August 13 - 6-8pm
Busboys and Poets - Shirlington Location
4251 Campbell Ave, Arlington, VA 22206
In 2018, Ron Clements, a professional sports journalist, journeyed across the country on a tour of all 30 Major League Baseball stadiums – a tour he called Home Run on Wheels. The tour promoted local foster care agencies and the need for permanent loving homes, while providing foster children the opportunity to join him and his wife for a local MLB game, an American pastime that many have yet to experience. In his book scheduled for release in July, Home Run on Wheels, Mr. Clements shares his journey and advocates for the over 100,000 children in our nation's foster care system.
Mr. Clements has joined forces with LSS/NCA while in our nation's capital to not only promote his book, but host an honest conversation concerning the growing foster care population. LSS/NCA currently advocates for foster children by promoting adoptions through the public system. Additionally, LSS/NCA operates one of the nation's few unaccompanied refugee minor (URM) foster care programs, providing homes and case management to youth who have lost their loved ones while fleeing war and persecution.
The event is free, but we ask that you bring items to donate to LSSNCA's refugee families like household cleaning products, toiletries and gift cards. There will be giveaways and you can leave with a signed copy of the book Home Run on Wheels!
Food, drink, and books will be available for purchase during the event at Busboys and Poets.
Meet our panel of experts!
Ron Clements, Author of Home Run on Wheels: Ron Clements is a Wisconsin native who has worked as a sports journalist since 1999. He has two sons, RJ and David, and has been happily married to Patti since 2017. Clements loves sports, movies, music, and traveling. He has received awards from the Illinois Press Association and has covered multiple NFL games, a Super Bowl, and various NCAA tournaments.
Jennifer Cormeny, Director of Family Services LSS: Jennifer, LICSW, LCSW-C, is a native Washingtonian, and has committed her professional career to the safety, permanence and well-being of children/youth and families in the District of Columbia and Maryland. Her career in child welfare began in 1996, and she has been fortunate to work with many dedicated and caring individuals. Jennifer has had the privilege of working at LSSNCA since 2015 and is honored to "walk with those in need and mobilize communities to provide services that offer hope and rebuild lives.
Irene Stevenson, URM Foster Parent: Irene Stevenson has been licensed to foster since February 2017 and currently parents two unaccompanied refugee minors. Prior to moving to Washington 10 years ago, Irene was a labor organizer in the former Soviet Union, where she became skilled at researching corporate behavior and structure in opaque political and economic environments. She has worked extensively on campaigns with the International Labor Organization (ILO), the Program for the Elimination of Child Labor (IPEC), international and sectoral non-governmental organizations and local grassroots organizations. Irene is fluent in Russian and proficient in French and Arabic.
(Moderator) Rochelle Dickerson, Clinical Supervisor, LSS: Rochelle Dickerson, LICSW, LCSW-C, has committed her professional career to the safety, permanence and well-being of children/youth and families in the District of Columbia and Maryland. Rochelle has a passion working with youth and families in need. Rochelle has been working at LSSNCA since 2013 and enjoys making a difference and impacting families lives for the better. Rochelle enjoys spending time with family, traveling, and adventurous experiences.