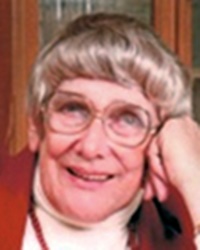 When Elizabeth Kreiser was born in 1924, the oldest of ten children, women were very limited in career choices.   She was born in a Pennsylvania hamlet in Bucks County, PA, then called Finland.  Her family moved back to Ono, PA in Lebanon County, where both of her parents were from – and where they lived across the street from Elizabeth's grandparents.  Her mother, Amy Elizabeth Snavely, had been a teacher after one semester of schooling, and gave that up once she was married.  Elizabeth's father, Raymond Samuel Kreiser, had a year of teacher training.  He later became an insurance agent.
While growing up during the depression, Elizabeth was very active in farming activities on their property:  milking the cow, growing food, taking care of chickens, watering plants from the house rinse water.  The twelve of them survived by living very frugal lives.
Elizabeth was home schooled by her mother, who mainly wanted her to become a good housewife.  When Elizabeth went to public school by the 4th grade, she was ahead of her peers.  She went to high school by the time she was 12. 
Elizabeth's mother made sure they all went to church.  She had been part of the Evangelical Church, a denomination similar to Methodist which eventually combined with United Brethren and became the United Methodist Church.  When Elizabeth was 14, she remembered hearing the lesson, "don't throw your pearls before swine" in a new way.  She said to herself, "I have to get out of this life."
Then, her Aunt Lottie, who was an English teacher, said "you'll never get to college unless you win a scholarship.  Here are the NY State Regents Exams."  Elizabeth studied and won a $100 state scholarship for Lebanon County, and then $50 from Lebanon Valley College.  These were seen as great sums at the time, and enabled her to go to college.  College was not the norm for women, and was considered a waste of time and money. "You will just get married," many people told her. Elizabeth knew from the time she was six years old that she wanted to be more than a housewife.
Elizabeth graduated from Lebanon Valley College in chemistry, with minors in math and physics, at the age of 20.  She was often the only woman in class.  She went directly into a doctoral program at University of Cincinnati in Organic Chemistry, and earned her Ph.D. in 1947 when she was 23.  She worked at the University for two years before moving to Bethesda, MD for a two year post-doc program at the National Cancer Institute.  Soon afterwards she was commissioned in the U.S. Public Health Service, and she remained working at the National Cancer Institute until retirement at the end of 1988. 
In Cincinnati, Elizabeth had visited a number of churches and liked Lutheran the best.  She appreciated the emphasis on music. In Bethesda, MD she joined Christ Lutheran, where her three children were confirmed.  She now lives in Rockville, MD.
Because Dr. Weisburger did not grow up wealthy, she is especially thankful for the scholarships she received which helped change her life.  She still had to work hard, and she was willing to do various jobs before she got into her chemistry career.  Now, her children and four grandchildren are all thoroughly educated, and the two great-grandchildren will be next.
Dr. Weisburger hopes the scholarship that bears her name, designed to help low income clients of Lutheran Social Ministry Organizations in the Metro DC Synod who have a good academic record, will help others have the change of education that she was blessed to receive.