Reverend Richard Graham, Bishop Metropolitan Washington, D.C. Synod, ELCA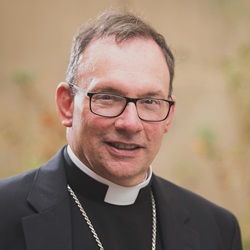 "I support LSS as strongly as I can because this ministry brings Lutherans and other people together to show God's love in practical, powerful ways."
The Rev. Richard H. Graham was elected to a six-year term as bishop of the Metropolitan Washington, D.C. Synod of the ELCA on June 8, 2007, by the 2007 Synod Assembly. He took office on September 1, 2007, and was installed on October 14, 2007.
Bishop Graham most recently served as pastor of Hope Lutheran Church in College Park, Maryland. Additionally, he has been Assistant Pastor of Trinity Lutheran Church in Hagerstown, Maryland; and Associate Pastor of St. Martin's Lutheran Church, Annapolis, Maryland.
Bishop Graham received a Master of Divinity degree from Harvard Divinity School, Cambridge, Massachusetts, in 1977 and a Master of Arts degree in Church History from the Catholic University of America, Washington, D.C. in 1989.
Bishop Graham is married to Nancy Ann Graham and has two adult daughters.