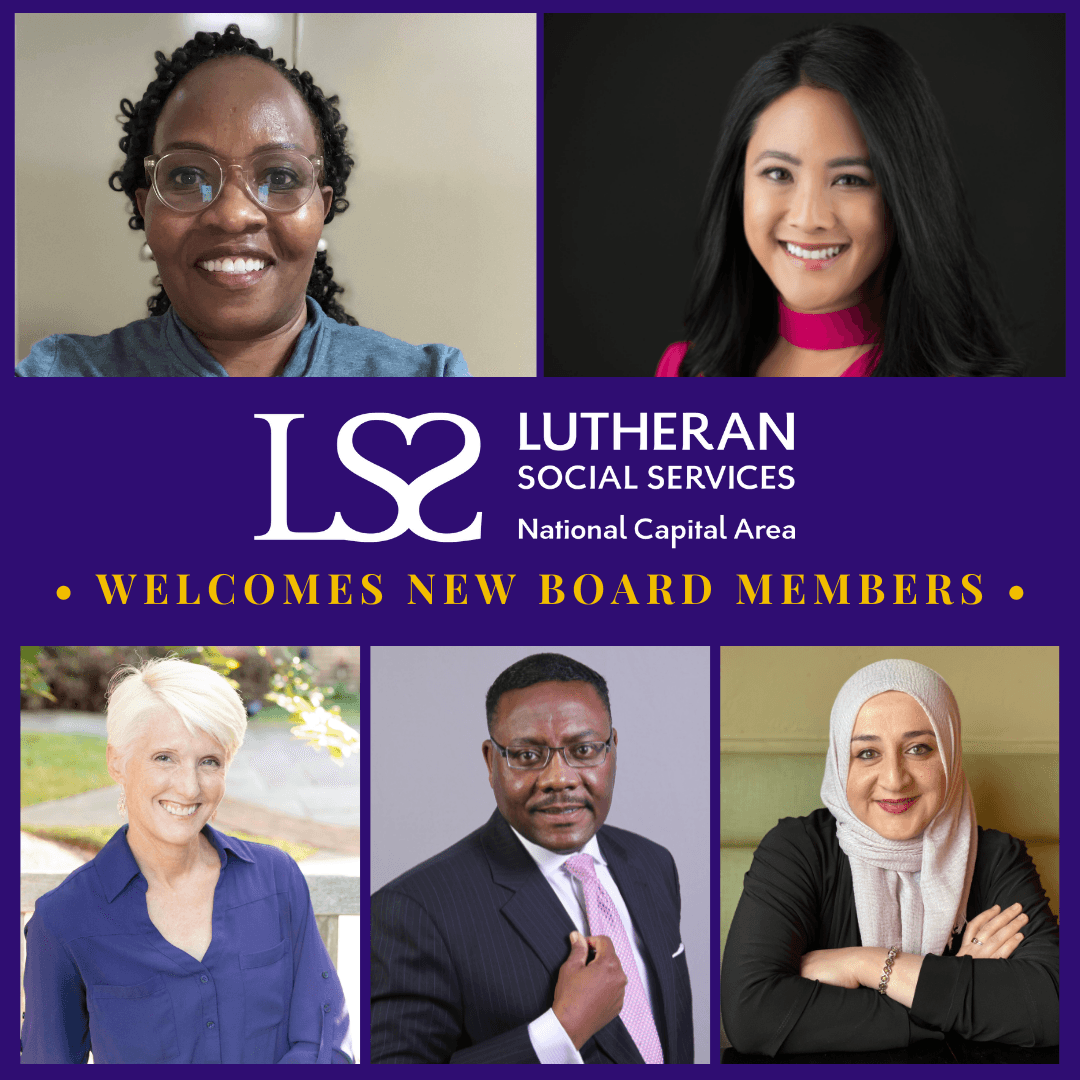 FOR IMMEDIATE RELEASE 
MEDIA CONTACT: 
Darlene Holmes, VP Development & Communications 
Media@lssnca.org 
(202) 723-3000 ext. 332 
Washington D.C. (11/1/2021) - Lutheran Social Services of the National Capital Area (LSSNCA), a human service agency that has served the D.C. Metro Area for more than 100 years, welcomes five new board members to join its rapidly growing organization.
"This is a significant time in LSSNCA's history and we need a strong Board of Directors at the helm," said Kristyn Peck, CEO of LSSNCA. "We are on the frontlines of one of the largest refugee crises in a generation, serving a record number of Afghan refugees and welcoming them to the DMV," she said.
Michael R. Cox, CPA, is the chief financial officer and executive vice president of the MAIA Management Group (MMG). He has played several roles in assisting companies, primarily nonprofits, with building financial infrastructure, and developing and implementing financial internal controls policies and procedures. He also currently serves as associate pastor at Cornerstone Church in Columbia, Md., and sits on the Board of Directors for the Institute for Conversation Leadership (ICL). While in the military, he was awarded the Army Accommodation Medal and served as a communications officer under President Reagan. Cox holds an MPA in finance from Boston University, and, along with his wife, dotes on four children and four grandchildren.
Christine Dunn, pastor at Trinity Lutheran Church in North Bethesda, Md. has followed her path to foster relationships between church, society, and daily life. During her time in Central America, she saw how impactful this trifecta can be for hurting communities. She also serves as a chaplain at a local volunteer fire house where she met her husband, with whom she has four children. An avid marathon runner, Dunn graduated from the Lutheran Seminary at Gettysburg, and was ordained in 2009. She also has degrees in special education and an MPA in public administration.
Hurunnessa Fariad is head of outreach at the All Dulles Area Muslim Society (ADAMS Center), and the director of outreach for Multi-Faith Neighbor's Network. In addition to LSSNCA, Fariad also sits on several boards, including the Virginia Interfaith Center for Public Policy, Leadership Circle for One American Movement, and is involved in many other faith-based organizations. She also founded The ADAMS BEAT choir, America's first mosque youth choir, and co-hosts the Sister Act podcast which discusses stigma, rights and social justice issues, and how the hosts' faiths address the topics.
Marie Martinez Israelite, director of victim services at the Human Trafficking Institute leads efforts to implement trauma-informed, survivor-centered approaches to their work with trafficking victims. During her 20 years of experience, Martinez Israelite also worked at the U.S. Advisory Council on Human Trafficking, led the development of the Department of Justice's first grant program for victim services to immigrant victims of human trafficking in the United States, and served as section chief of the Victim Assistance Program at Homeland Security. Martinez Israelite has a Master's in social work from the University of Pennsylvania and is an undergrad alumna of Bucknell University. She and her husband, along with their two daughters enjoy traveling and playing tennis during their down time.
Esther Traore, RN, works at the Washington Hospital Center. She is passionate about giving back to her community and serves as the chairperson for the Swahili Lutheran Woman's Group. Esther lives in Rockville and is an avid hiker.
"We are thrilled to welcome Michael, Christine, Hurunnessa, Marie and Esther to our board of directors, said Peck.  "Our board is integral in cultivating partnerships and relationships that will help us foster resilience and create welcoming communities. They round-out our solid group of professionals who champion LSSNCA's mission," said Kristyn Peck, CEO of LSSNCA.
###
Since 1917, Lutheran Social Services of the National Capital Area (LSSNCA) has promoted welcoming and compassionate communities with the help of partners and volunteers. Today, LSSNCA serves the Washington Metropolitan Area through refugee and immigrant resettlement, workforce development, foster care for unaccompanied refugee minors, adoption services, CARE for Newcomers, Mental Health and Wellness, and Youth Development and Wellness.