A Precious Gift to a Mother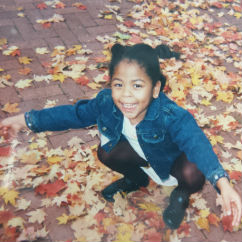 The phone rings. Every time she hears the shrill hum of the telephone, Lolita thinks "could it be?" A year ago, she contacted Lutheran Social Services of the National Capital Area (LSS/NCA). She was a mother without a baby and every mother should have the opportunity to raise a child. LSS/NCA walked her through the application process, and helped her sign up for workshops and gain the certifications necessary to become an adoptive parent.
The phone was still ringing. It was the adoption agency that LSS/NCA had Lolita work with, "…We have a young girl in our care. Would you like to come meet her?" When Lolita arrived, she was introduced to 18-month year old Precious. Lolita was very surprised to find out that Precious would be going home with her that day.
"They trust me. Am I ready? Does every mother feel like this?"
For a year and a half, Lolita served as Precious' foster mother while she waited for the adoption to be finalized—always knowing that Precious was her little girl. "My  decision to foster after finding out I wouldn't have children of my own was God's greatest blessing because after a year and a half of paper work and court visits, I officially adopted Precious when she was 3."
Today, Lolita and Precious are inseparable. Precious is 11-years-old and is on the 6thgrade honor roll. She loves to dance and draw, and she sings in the church choir. Lolita is so proud that Precious dreams of going into cosmetology or teaching just like her mother.
If you are interested in opening your home to a child in need, please submit an interest form today.