Mother & Baby Reunited
Ms. D and her two-day-old son JD were in a difficult situation:  It was time for them to leave the hospital, but they had nowhere to go. They had no home, and no family to support them.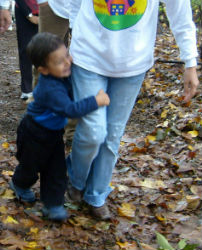 Ms. D knew she was in no place, physically or mentally to take care of her son, so she made the difficult decision to do what was best for little JD and reached out for help. She called us–Lutheran Social Services of the National Capital Area. We found JD a foster home that would allow Ms. D to bond regularly with her son. Meanwhile, we helped Ms. D find mental health assistance, parenting skill classes and job training. 
After three years of hard work and dedication, Ms. D was reunited with her son. Having never missed a beat of his childhood, she was as connected to JD at three-years-old as she was when he was three-days-old when they walked out of the hospital together.
Mothers and children like Ms. D and JD need extra support and guidance. We have been asked to serve more children and families in foster care, but without your help, we simply cannot do it at our current capacity.
By supporting LSS/NCA you will make it possible for us to serve more children in our community who need a safe, nurturing place to call home.  To learn more about foster care and how you can help, visit our foster care page.