Baking Cookies with Mom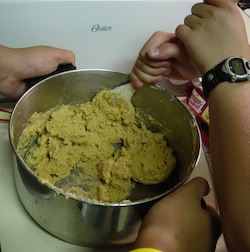 Because Susie and Cindy's mother was struck by the recession and unable to financially care for her children, She made the difficult but unselfish decision to place the girls into foster care. That's when Lutheran Social Services of the National Capital Area reached out to them. 
We placed the girls with a foster family that provided a stable, loving environment while their mother sought out work. Each week, our van drove Susie and Cindy from their foster home across town to visit their birth mother. Usually they were excited on the trip over, bouncing in their seats with anticipation at seeing their mother, but the way back was quiet and somber because the girls knew they would have to wait another week for a visit.
But a recent trip was different—the girls were told that they would be able to move home soon. Their mom had found two steady jobs and had been given the job training she needed to provide for her family. On the way back, Susie and Cindy could not stop talking about how their life would be: the cookies they would bake with their mom, the stories they would read before bed, and the dinners they'd have around the kitchen table – all aspects of love they learned while they were in foster care.
Advocating for children and families through foster care is one of our longest-running programs. We protect children in crisis by providing loving foster homes while at the same time working to strengthen and bring health and wholeness to their families. 
Currently the program is at capacity, but because of our professional expertise and the passion we bring, we have been asked to increase the number of children we can serve. Your support would help us reach this goal and meet a critical need in our community. Please consider a donation today.