Decision: Leave or Die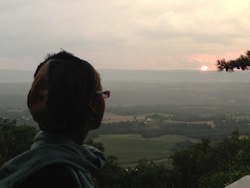 Five minutes. That's the amount time Nina had to decide to 1) leave her newborn baby and her husband and flee to the United States, or 2) stay in Iran with her family and risk being killed because of her support of women's rights. 
Five minutes.
She didn't even have five minutes to say good-bye. Since persecution was imminent if she returned to her home, Nina fled. She went to an American entry point and was granted asylum. 
Though she was given the opportunity to live and work in America, Nina was unable to find employment when she arrived. She was also living with the grief of leaving her family behind. That's when Nina connected with Lutheran Social Services of the National Capital Area. 
We provided Nina with information about employment and vocational training, affordable housing and referrals to other services while she searched for a job. Most importantly, we explained to her that she might be able to see her family again. 
With more hope and determination than she had felt in a long time, Nina started working full time as a home care assistant and also took on a second job at TJ Maxx so that she could save enough money to help her family when they arrived. After a few months, Nina reunited with her baby and husband in the United States.
In five minutes, Nina made a life-changing decision. In five minutes you could make a life-affirming decision: you can decide to support the work of Lutheran Social Services of the National Capital Area. This year, we will support 400 refugee families like Nina's. While their stories are all different, the help that we provide and what we learn from the testimony of their lives makes us stronger. 
To learn more about our newcomer neighbors and how you can help, see our Refugee & Immigrant Services page.