Hope for Refugee Family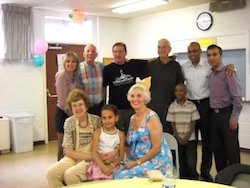 Mehrdad and his family fled from Iran where they were persecuted for their political beliefs. For the next five years, his children's lives were threatened; they lived in poor conditions at a refugee camp, and they constantly feared what the future might hold. 
At long last the family moved to the United States and settled in Virginia. The transition wasn't easy. Mehrdad's family faced an entirely new culture, a different language and different customs. Fortunately Mehrdad and his family had help. 
Two of LSS/NCA's partner churches—Immanuel Presbyterian Church and Lewinsville Presbyterian Church—saw the family's need for guidance and support during the transition to their new home in America. The congregation members provided food when the family ran low, offered leads on possible employment, gave direction in American customs and language, and, most importantly, extended their friendship.
 
Thanks to the help of these two congregations, the family is now thriving. The children are making new friends at school and Mehrdad has found a job that allows him to provide for his family.
Partnerships like this are vital to the success of refugees rebuilding their lives in our community. We work to connect refugees with community partners, congregations, and individual mentors to smooth the transition to life in America.
However, we need to expand this service to meet the needs of growing numbers of refugees. By supporting LSS/NCA, you can help us make these transformational experiences possible through our volunteer and community awareness program that engages neighbors in compassionate service and internships. 
To learn more about our community sponsorships and how you or your group can make a difference for a family new to our community, visit our Partnerships page.