Keeping a Secret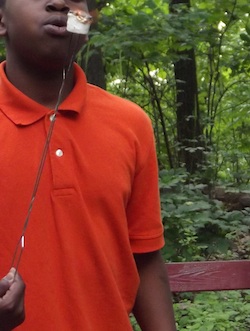 Timmy was eight-years-old and he was keeping a secret. Several years before, his mom had died. Even though his dad went to a support group for bereaved spouses, the family hadn't mourned her much in public. Timmy found out why: she had died of AIDS and his father was HIV-positive, too. 
Timmy didn't want his friends to think his parents were bad people, so he kept what he had learned to himself. The burden he carried caused him severe anxiety so he rarely spoke.
At the HIV support group, Timmy's dad heard about Camp Kids Haven, one of LSS/NCA's Youth Haven Camp programs.  Camp Kids Haven gives 40 7–13 year-olds, living with or affected by HIV/AIDS, a warm and caring environment for one week each August. It's a place where they can be out in nature, have fun, and just be kids. 
Timmy's dad signed him up hoping that he would meet friends who understand his burdens. Throughout the week at Camp, Timmy remained mostly quiet and shared only a smile or two. Counselors wondered whether they made any progress with helping Timmy come out of his shell. 
The last day of Camp during one of the art sessions, Timmy wrote his father a note: "Dear Daddy: These 5 Days of Camp have been Real Fun. Thank you for signing me up. From Timmy."
Since then, Timmy returned to Youth Haven for several years and recently graduated to the Teen Haven community. Counselors say they can't keep him quiet now! And his dad credits Youth Haven with helping Timmy find self-confidence that has improved his social skills and his academics. 
We want to serve more Timmys. Our region suffers from an HIV/AIDS rate that is as high as five times the national average. Youth Haven Camp & Retreats provide children and teens who live with or who are affected by HIV/AIDS a safe, supportive environment where they can share their experiences, find comfort and hope together, and grow past the stigma of HIV/AIDS. 
To help make camp an exciting adventure for all our young campers, see our wish list of camping needs.