Never Giving Up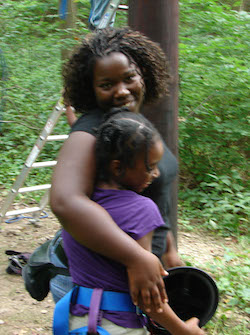 "I'm afraid I'll fall," said Megan as she considered the challenge of rock climbing. She watched fearfully as her fellow campers bravely went up the obstacle. "You can do it, Megan," replied Jackie, one of the counselors, "I'll go with you and everyone will cheer us on. We are all here for you." This is all the encouragement Megan needed to find the courage to climb that wall.
After each camper had climbed the rocks, Jackie asked, "Why did you succeed even though you were afraid?" The campers' responses were, "Because I didn't give up," and "Because everybody kept cheering me on."  Jackie then asked, "How does this challenge help you with other challenges you face?" The campers had a plethora of responses. Megan, who could be heard over the group saying, "I'm not in this alone." 
At Youth Haven Camp and Retreats, youth like Megan have the chance to learn what some never do –that they don't have to face life's challenges alone. 
This lesson is especially important for Megan and her fellow campers who think they must hide their biggest fear—their status of living with HIV. Youth Haven teaches these children that they have friends and people who they can turn to in times of need. Youth Haven Camp and Retreats is a nurturing place where they can find support and know that they are not alone in their struggles.  
With your help and support, more campers like Megan will find the strength to climb over their fears and discover the motivation to never give up! If you are interested in learning more about this program and how you can be involved, please visit our Youth Haven page.