Reverend Anteneh Gebreselassie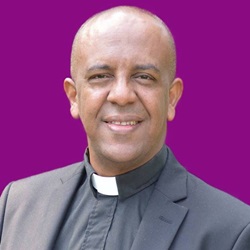 "I am a native of Ethiopia who migrated in 2006 to United States through the Diversity Lottery Program. Although I was not a refuge, I share the common experience of immigrants. I believe that serving as board member in LSS/NCA, is living my call of proclaiming God's grace."
Pastor Anteneh Gebreselassie is a native of Ethiopia. He earned his undergraduate degree in Theology from the Mekane Yesus Theological Seminary in Addis Ababa, Ethiopia, and his Master of Divinity degree from the Lutheran Theological Seminary at Gettysburg. Pastor Anteneh sensed his call to ministry in his teenage years. He served as a young Evangelist and Commissioned minster preaching and teaching the gospel in his home country. Pastor Anteneh was called to Resurrection Evangelical Lutheran Church as Associate Pastor on Reformation Sunday October 30, 2011 and began his call on January 1, 2012. Pastor Anteneh is married to Sophia Y. Fekade. They have two young children, Yonni and Yohanna.