Our Board
Honorable Richard Kauzlarich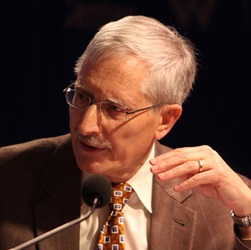 "The most important reason I became a LSS/NCA Board member is that someone took the time and effort to ask me to join the Board and describe why I could contribute to LSS/NCA's mission of serving our neighbor in need. Once on the Board, I began to understand that my concern about welcoming the stranger in our midst — the refugee fleeing oppression in their homeland — was being addressed by LSS/NCA and that I could make a contribution in that area."
Ambassador Richard Kauzlarich is Director of the Center for Energy Science and Policy, and Adjunct Professor, at George Mason University's School of Policy, Government, and International Affairs. From 2003 until 2011, he was National Intelligence Officer for Europe at the National Intelligence Council. Formerly he was Director of the Special Initiative on the Muslim World at the United States Institute of Peace. Ambassador Kauzlarich joined the Institute after a 32-year career in the Foreign Service.
He served as United States Ambassador to Bosnia and Herzegovina in 1997-99 and to Azerbaijan in 1994-97. He was Senior Deputy to the Secretary of State's and the President's Special Representative to the Newly Independent States (NIS) in 1993-94. He is a co-author of "Aid During Conflict: Interaction Between Military and Civilian Assistance Providers in Afghanistan, September 2001-June 2002," published by RAND in 2004. Ambassador Kauzlarich received his B.A. from Valparaiso University and M.A.s from Indiana University and the University of Michigan. He is a visiting fellow at the Joint Forces Staff College of National Defense University. He is also a member of the National Council of the College of Arts and Sciences at Valparaiso University.